As the owner and operator of Ice Fish Green Bay, Bret Alexander takes pride in his business and the success of his customers.
Bret has more than thirty years of experience fishing the waters of Northeast Wisconsin.
Driven by the passion to help his customers experience some of the best fishing Wisconsin has to offer, Bret ensures that the needs of his customers are met on every trip.
Bret works with his experienced staff of reputable guides to help make your next guide trip a smashing success. Each one of our guides works personally with any given fish house to ensure customer service is at the forefront.
With an intimate knowledge of Green Bay including the Door County area waters, the Fox and Menominee Rivers and the surrounding area waters, Ice Fish Green Bay has multiple bites dialed-in at any given time, for several different species of fish. Working with a network of guides, Bret knows where the bite is hot even before the day begins. Bret excels at teaching new techniques to novice and expert anglers alike. He welcomes the opportunity to share his experiences with others and to continue to build his field of knowledge each day. Knowing how to adapt to conditions often means the difference between no fish and a limit. With top of the line electronics and equipment, Bret constantly monitors for changing conditions and makes adjustments accordingly. As a true four season, multi-species angler, Bret has the expertise to get his customers on trophy sized fish of most any species that swims in the Bay, including trophy walleye, lunker smallmouth, giant pike, huge muskies, tasty perch and whitefish, trout and salmon and even monster sturgeon. Whether in the boat or on the ice, most days you can find Bret wearing a smile, catching fish and having a good time somewhere on the water. Bret's easy going nature ensures a fun day on the water for everyone. As a devoted husband and father, Bret enjoys introducing more families and children to the tremendous sport of fishing. He also welcomes the opportunity to assist seasoned anglers in their quest for a trophy fish. In this regard, Alexander Sport Fishing has been featured in national publications, such as In-Fisherman Magazine, as a leading source of fishing information in the area. Bret is pleased to be among the top guides in the region selected by John Gillespie, In Fisherman, Fishing the Midwest with Bob Jensen, Legends of the rod and reel, Mid West Outdoors, Kent Herbeck Outdoors, Northland Adventures, Keys Outdoors, and Discover Wisconsin for there programs.
Your ice fishing guide trip will be comfortable, fun, and loaded with big fish. Ice Fish Green Bay has great sponsors which equals; warm heated Frabill shacks to fish out of, power ice drills to get to the fish fast, Vexilar Flashers to fine tune the exact presentation, and quality rods and reels when it counts the most.
All you need is a good "fish" attitude, and leave the rest up to us!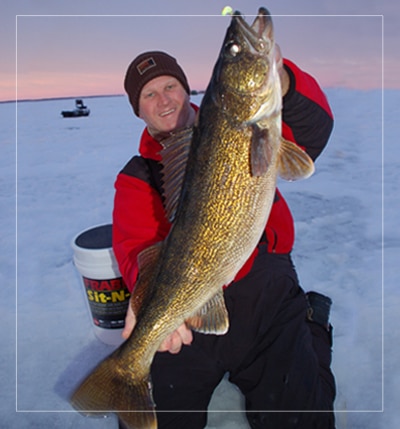 Bret Alexander, your guide, is a locally known tournament participant and television personality.
TV APPEARANCES INCLUDE
- John Gillespie's "Waters & Woods"
-"Kent Hrbek Outdoors" (#14 Minnesota Twins)
-"Legends of Rod & Reel"
- Midwest Outdoors
- Discover WI
- Fox Sports News (Green Bay)